Where the river Pjandsh forks into its tributaries Wakhan-Darja and Pamir-Darja, we crossed the Wakhan-Darja to the village of Goz Khun and hired pack animals for the trek to the Big Pamir. Reliable and cheerful Wakhi horsemen accompanied us with five horses for 1000 Afghani each animal per day (ca. 15 $). Originally we had intended crossing into Big Pamir via the mountain route along Kotal-e-Sargez Pass, but unusually high precipitation in spring had still blocked all passes with snow in early June. Instead we choose the snow-free river route along the banks of Pamir-Darja, retracing the steps of John Wood from 1838 towards his Lake Victoria (now Lake Sorkul).
For four days we made good and pleasant progress, climbing gradually from 2800 m in the valley floor to the 4000 m Pamir plateau. When we reached the first Kirghiz settlement at Sakrak, "the System" started interfering with our timetable. Kirghiz of the Big and Little Pamir want to participate in the income generated by the handful of travellers, and so Wakhi horsemen are not allowed any further. The Kirghiz "System" transfers the traveller then from village to village with the need to arrange new pack animals each day. That procedure would be very just, if it would follow the scheme of 1000 Afghani a day for an 80 kg horse load, as harmonised between village elders and the Norwegian Foreign Office. In our case however, fees per animal rose erratically and steeply on a daily base, while maximum possible load per animal - now strong yaks - dropped equally as fast as our daily covered distances. When questioned, the Kirghiz proudly answered: "That's the system!". Their sturdy charm has so far not been obliterated too much by any cultural interaction with western business rules, and so their healthy and strong hearted approach to any passing caravans as an exploitable source of income remains unaltered since Marco Polo's days. Interesting for the ethnographer – and a nuisance to the traveller, losing many hours a day with fruitless discussions.
Seven days from Goz Khun we finally reached beautiful Lake Sorkul. Seeing the lake was a premiere even for Malang, our Wakhan wide travelled Afghan friend. The shore of the lake explodes with wildfowl, retreating snows give way to a Mid-June spring rich in blossoms, unclimbed mountains up to 5800 m decorate its southern rim – it is a climber's paradise. Our plan was to start from Sorkul on the three day crossing into Little Pamir and Lake Chakmaktin via Shaur Pass (4890 m). Although free of snow until at least 4500 m altitude and possibly manageable by Yaks, local Kirghiz refused to cross the Pass on the grounds of "too much snow". Instead they headed down valley for two days to a fording in the Pamir-Darja (37°25.14'N, 73°14.33'E, 3944 m), where United Nations delivered a free food supply of 150 kg of flour to each family. International communities had responded in this way to Kirghiz reports of heavy loss of livestock due to the snowy spring – a fact that we could not verify at any single pasture in the Big Pamir. Livestock in Mid-June was abundant and well fed.
We were stranded at Lake Sorkul in Big Pamir without any option to reach Little Pamir by the short way "over the mountains". Time began to run low and demanded swift action. We decided to stick to the Little Pamir plans, dashed back to Goz Khun in just four days, with 15 hours per day marches. During the last stages we were supported again by Wakhi friends.
In Goz Khun Malang hired a Jeep to Sarad-e-Boroghil for 200 $. While he had to leave our team to prepare at home for following expeditions, Malang managed to gain us the custodial care of Wakhi horse man Amin Bek. Hardworking Amin Bek, who was a senior to some climbing expeditions to the Little Pamir, helped us to reach Bozai Gumbaz in Little Pamir via Daliz Pass (4267 m) and the river route in just over two days from Sarad. After intense checking by Afghan border guards our team then divided.
Christine Fischer and Kristina Kunze headed east along the Bozai-Darja to research on new ideas about the source of the Oxus. They set themselves the task of defining the watershed between the west flowing Bozai-Darja and its downstream river system of Wakhan-Darja/Pjandsh and the eastwards draining Lake Chakmaktin with its system of Aksu/Bartang/Pjandsh. Just at the western end of Lake Chakmaktin, a side valley diverts north from the main E-W trending Little Pamir. Clas Naumann used the name Chelab for this valley in 1974 and we maintain that nomenclature for the argument of the similarly denoted village at the valleys entrance. Confusion may arise, as Russian maps "Generalstab" call the same river and valley Birgutai-Djilga.
The girls spent a week in the valley and its vicinity and found a very wide glacially moulded watershed at around 4000 m of altitude. The little stream exiting the Chelab valley to the south splits itself into several arms on that watershed, of which some feed eastern Lake Chakmaktin and some drain west into Bozai-Darja. So Chelab can indeed been seen as a feeder for both diverging river systems, Wakhan-Darja and Aksu/Bartang.
Naumann speculated about possible drainage of Lake Chakmaktin to the West into Bozai-Darja during high-water season. He could not find such evidence at the mid-water regime in August 1974. Neither could Christine Fischer & Kristina Kunze during the days around 24th of June 2016, with the snow rich spring surely regarded as the time of highest yearly water levels. So at present, there is no drainage of Lake Chakmaktin to the West towards Bozai-Darja. Considering the extremely flat watershed is made of unconsolidated glacial deposits, and taking into account the Pamirs very active geodynamics at all scales of regional tectonic uplift, crustal deformations due to earthquakes and local solifluction, erosion and sedimentation, it is reasonable to assume recurring episodes of such westward drainage over geological times. But at present, there is no evidence even at high water season!
Following the river's course north as far as possible into Chelab valley, Fischer & Kunze fixed the source of that streamlet at a snow field around 37°18.96'N, 74°08.08'E and 4763 m (see enclosed maps). To verify their findings with a birds eye view and to produce panoramic shots of the Little Pamir, Fischer & Kunze climbed the mountain ridge east of Chelab river. At a first summit of 5367 m altitude (37°15.91'N, 74°07.65'E) they found a small cairn without any traceable message. So it remains open whether Clas Naumann in 1974 or some later climber or even local Kirghiz can be credited with that first ascent. As this summit appears to be nameless in all sources, we assign "Koh-e-Naumann" to it, commemorating Clas Naumanns scientific contribution to the exploration of Little Pamir. Half a kilometre north of Koh-e-Naumann rises the easily accessible and nameless main peak 5518 m on the ridge. Towering above his former settlement at Lake Chakmaktin, we name it "Koh-e-Rahman-Kul" to remember equally the legendary Kirghiz chieftain that steered his people delicately and securely through the troubles of 20th century geopolitics.
Summarising the hydrological findings, the Chelab river drains with several arms eastwards to Lake Chakmaktin and Aksu/Bartang and equally westwards into Bozai-Darja and Wakhan-Darja. The bifurcation of these arms occurs only a few meters above the Chakmaktin lake water level. Even at high water season, there is no drainage from Lake Chakmaktin westward into Wakhan-Darja system. By this, the source of the Chelab can be seen as a common and uniting source of both river systems, thus adding another source with such parameters to the Oxus beside the Oxus Snow Lake (AAJ 2009).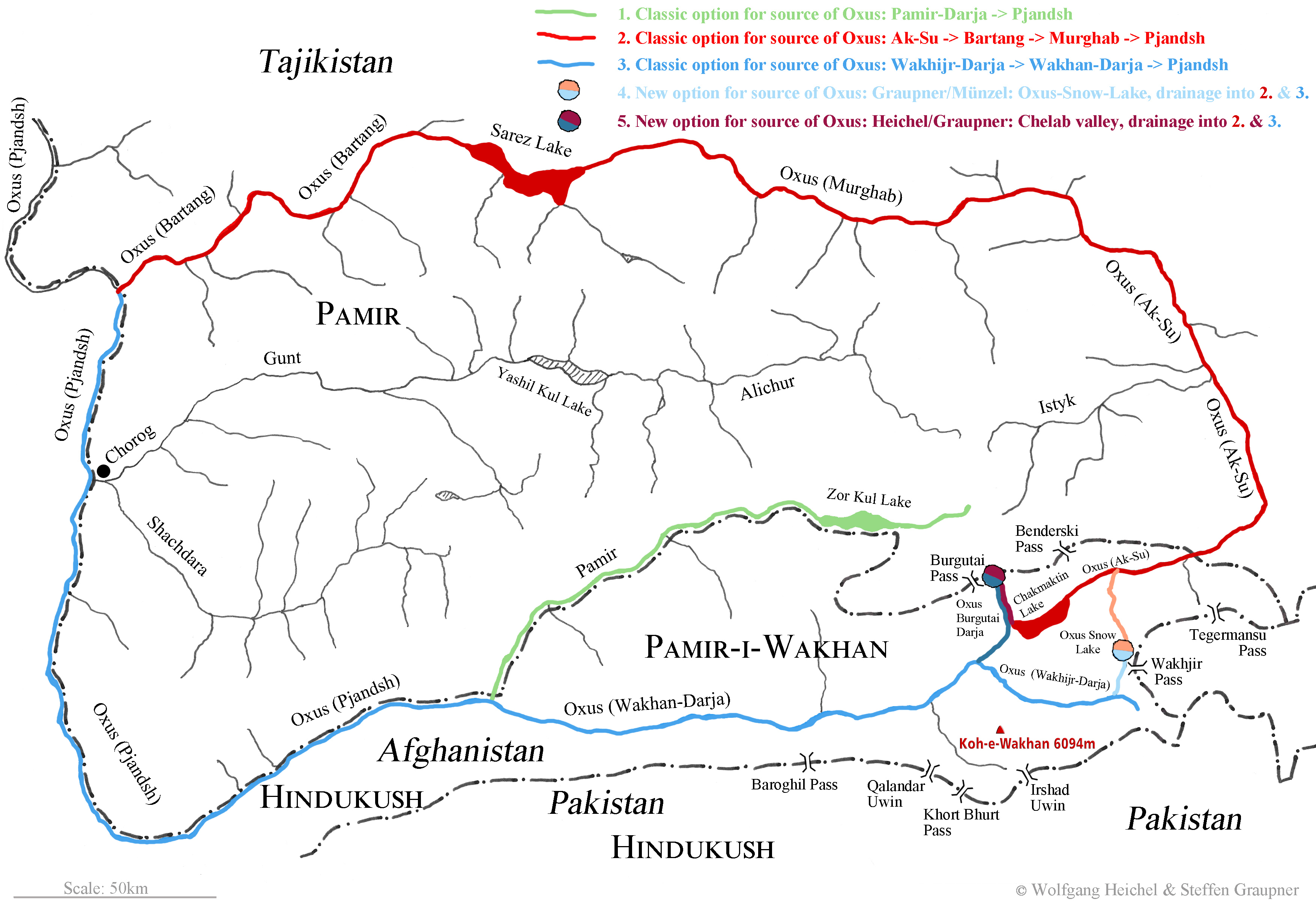 Map showing the Oxus Source options

360°-Panorama of Lake Chakmaktin and Little Pamir. From north-east/east (Lake Chakmaktin outlet), south (Lake Chakmaktin and Little Pamir), south-west (Bozai-Darja), west (Chelab valley) to north (Summit 5.500 m)
Meanwhile team members Matthias Müller and Steffen Graupner pursued their idea to climb peak 6094 m. Splitting the Wakhan corridor into its three main divisions, the narrow Corridor itself, Big Pamir and Little Pamir, the historically interested mountaineer will note: The highest summit of the Corridor (Noshaq, 7485 m) was already scaled back in 1960 by Toshiaki Sakai und Goro Iwatsuba starting the main phase of Hindukush climbing; the highest top of Big Pamir (Koh-e-Pamir, 6320 m) was climbed in 1971 by Alberto Pinelli – and all that time the culmination of the Little Pamir at peak 6094 m has remained untouched up to now. This has not been due to lack of attempts or solely due to political isolation. German Dietrich v. Dobeneck had explored the area in 1964 and climbed close by Koh-e-Bay-Qara 5424 m. A Polish team around Antoni Miklaszewski succeeded in 1974 on the 5548 m Awal Wakhjir Sar just at the northeastern footstep of peak 6094 m. The Polish team suggested as a working title "Qara Jilga I" for that mountain, after the stream running NW from it. Then Alan Halewood (AAJ 2011 & 2014) approached the mountain from the NE with success on Koh-e-Iskander (5561 m) and Bartek Tofel 2010 from Qara Jilga river (not documented in his AAJ 2011 report but from personal information from Wakhi horse man Amin Bek). Learning from the reports of our predecessors and by carefully studying maps and photos by Go Hirai and Wolfgang Heichel, we had decided before the expedition started to go halfway round peak 6094 m along the Bay Qara river banks and to try to approach it from the South with access to a glacier right opposite Irshad-Uwin Pass. A higher snow line, less vertical ice balconies, hope for benignant rock fall and easier glacial travel motivated us for that route during such early season. However, by now the time loss in the Big Pamir had stopped all our elaborate plans.
Our timing now only allowed for one very short and direct dash to the mountain. So we completely neglected the southerly option for lack of time and the NE vicinity of the mountain because of the experience of all previously failed expeditions. Instead we focused our attention to the NW and W, (see enclosed map). Accompanied by Wakhi horseman Amin Bek we headed in the afternoon of 21st June from Bozai Gumbaz for two hours west on the southern bank of Wakhan-Darja. We left its valley at 37°04.97'N & 73°57.95'E (3932 m) to enter Qara Jilga valley. Walking East on an easy flat river bed into that valley we camped on a lovely meadow alive with Ibex. Continuing Qara Jilga valley East and then South, we reached the last green spot, with a clear indication of occasional use as hunters camp (37°01.96'N, 74°03.67'E, 4186 m). Running water made this alpine meadow a perfect camp for Amin Bek to feed his horses and await our return. So we pitched tent for him and supplied him with a week's food.

Panorama glacier plateau
Matthias and I continued the same afternoon with heavy rucksacks through difficult glacial debris and bivouacked right beside the mouth of a major south trending glacier (36°59.90'N, 74°04.35'E, 4468 m). For the locally well-known Qara Jilga river we name the glacier accordingly "Qara Jilga Glacier" and entered it over its orographic right flank (36°59.51'N, 74°04.49'E & 4589 m); see provided maps. Use of snowshoes eased glacial travel greatly and so we progressed swiftly, only occasionally fighting with knee deep slush on the otherwise firn covered glacier. We set our high camp (36°56.76'N, 74°03.68'E, 5130 m) in the centre of a most spectacular glacier plateau in the afternoon of 23rd of June. Digging our tent into the glacier, we were stunned by a vast glacial system surrounded by dozens of unclimbed 5500-6094m peaks. Next day we spent with acclimatisation walks to establish the proper geographical setting of that three kilometre wide arena and to search for a possible line of ascent. The huge WSW face of peak 6094 m seemed to provide such possibility. We called it "Renner Face" to honour Georg Renner, who pioneered major climbs in the Pamir.
On 25th of June we started at five o'clock in the morning, crossed the plateau and entered the WSW face at the outspill of an avalanche gully (36°57.48'N, 74°04.77'E, 5193 m). The summit towered 900 m above us with average slope of 40-45° to overcome. Spring avalanches had wiped all loose snow and rock material out of the face, providing an objective safe route on solid firn. Conditions will be similarly favourable for only a few days of the season. Some weeks earlier the face surely was prone to avalanches, later in summer rock fall can be expected, and by autumn substantial portions of the wall will have turned into bare ice. Soon our route became technical with rocky ledges narrowing the flank down to a few meter wide gully of bare ice sloping at 50-55°. To avoid all loose rock, we kept to the ice. Naming this crux "Heichel Gully", we carefully climbed through it and at eleven o'clock stepped onto a shoulder on the summit ridge at 36°57.68'N, 74°05.26'E and 5852 m. Matthias Müller's excellent effort toiling for hours through knee to waist deep powder is acknowledged with that "Müller Shoulder". Loose powder dictated the rest of the climb, often deteriorating to waist deep snow. The wide ridge itself climbs at 40-45° over surprisingly crevassed terrain, so that finally we were forced to rope up. At 13.30 we stood on a summit (36°57.58'N, 74°05.42'E), which later turned out to be the first top of a twin peak. At this point, Alan Halewoods proposed route of 2013 (AAJ 2014) would have emerged onto the summit ridge. Seven GPS-Satellites gave an altitude of 6133 m, but maps we consulted rather suggest 6080 m. We had hoped that this summit was the highest elevation, so finishing our arduous climb, but another summit in the not so far distance destroyed this illusion. Reluctantly we decided to carry on over a wide and easy ridge, first walking down and then gaining altitude again. Matthias Müller and Steffen Graupner reached the second summit at 36°57.51'N, 74°05.49'E around 14.30 o'clock. Around us, no higher summit was observable in a 20 km perimeter. In the Southeast looms Sakar Sar (6272 m) and straight in the southern distance the Koz Sar group of Western Karakorum. Receiving six satellites, our GPS read 6085 m, but maps indicate 6094 m. A mighty summit cornice projects northerly into the void. Below we saw the near vertical ice balconies that confronted early German and Polish explorers with such obnoxious difficulties. The lesser of the twin peaks at 6080 m we called "Greta Sar" and the higher peak at 6094 m "Koh-e-Wakhan". We felt that the peak towering over all these several hundred mostly unclimbed summits in the eastern Wakhan should bear this name. Descending via the same route and using front spikes of the crampons for most of the time, we returned to high camp at 22.00. For its overall length and some steep ice sections we would grade the route AD+.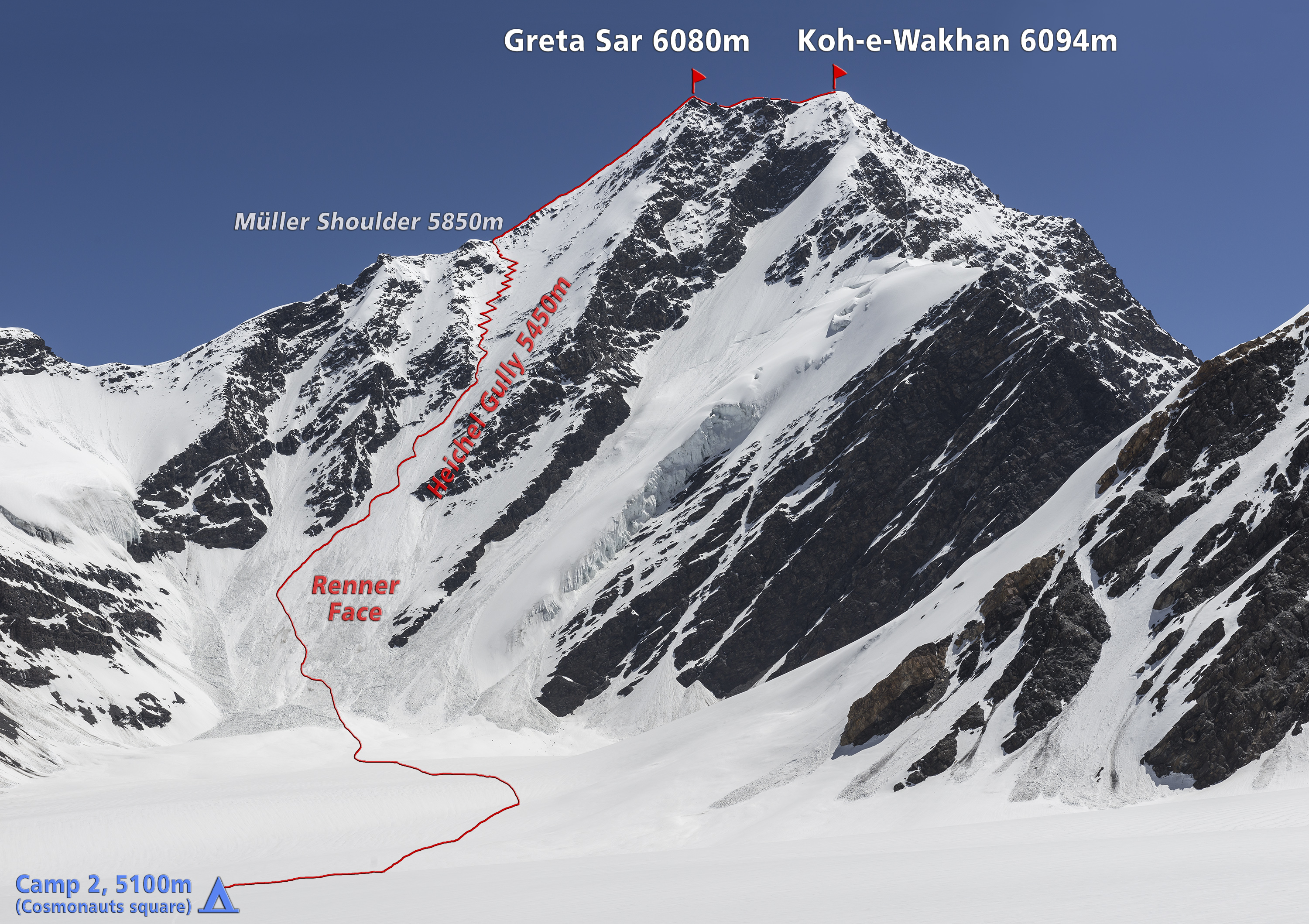 West Face of Koh-e-Wakhan
Next day our faithful friend Amin Bek with his horses awaited our return right amongst the boulders of Qara Jilga glacier moraine. Over the course of 27th of June he nourished us back to life and helped us to reunite with the second half of our party at Bozai Gumbaz. Speedy horses then rushed us back to Sarad on the night of 29th of June, where Malang had already provided a Jeep to meet him in Ishkashim next evening. July 1st, which was the last open day of our Afghan Visa, saw us crossing the border to Tajikistan at Ishkashim.
Little Pamirs highest summit has finally been climbed, 52 years after the first attempt. We proudly thank our predecessors for inspiring and teaching us. Gratitude goes to Deutscher Alpenverein DAV for financially supporting our quest and to Meindl, Komperdell, Ortovox and Novoflex for equipping it. Wolfgang Heichel gave us constant alpine historical advice, Miriam Fahnert provided medical services and Jeremy Wright proofread the English script. WCS, Malang Darja, Amin Bek and other Wakhi friends opened their hearts and homes for logistical, cultural and spiritual support. Thank you for all that!

Panorama from top of Koh-e-Wakhan